The Card-Jitsu Handbook Book Codes
Posted by Tech163 on August 21, 2011 under
Cheats and Tips
On September 15, 2011, Club Penguin will be releasing a brand new book: The Card-Jitsu Handbook. As always with unlockable books, we will be posting some book codes for everyone as soon as the book has been released.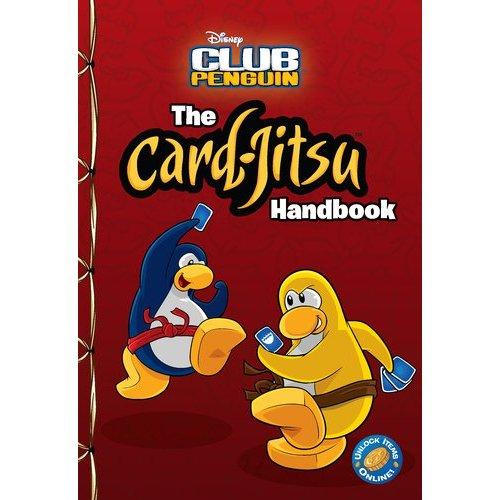 The book will be mainly targeted at children 9-12 years old. The book will consist of 80 pages, and will be in English. The book has yet to be added to the "I have a book" section in Club Penguin for redeeming items, but that will probably change as we get closer to the book's release date.
Are you excited for the release of this book? If you are, you can preorder it on Amazon! Once again, we will be posting a large number of book codes once the book is released in September. What do you think this book will have? Leave a comment and let us know!
Update: we have gotten our hands on the Card Jitsu Handbook, and here are some book codes:
Page 4, line 2, word 8: Footsteps
Page 6, line 7, word 8: Volcano
Page 7, line 1, word 8: Ancient
Page 11, line 2, word 10: Battle
Page 12, line 5, word 7: Wins
Page 14, line 3, word 11: Different
Page 16, line 4, word 3: Glow
Page 16, line 6, word 12: Move
Page 18, line 3, word 9: Pebbles
Page 20, line 8, word 12: Belts
Page 24, line 2, word 12: Play
Page 25, line 3, word 12: Pillow
Page 30, line 3, word 8: Master
Page 30, line 5, word 1: Element
Page 32, line 1, word 3: Win
Page 34, line 4, word 3: Trials
Page 40, line 5, word 10: Examine
Page 42, line 4, word 3: Deck
Page 44, line 3, word 5: Hidden
Page 46, line 4, word 7: Confident
Page 48, line 2, word 9: Collect
Page 52, line 2, word 7: Chill
Page 58, line 2, word 11: Defeated
Page 62, line 2, word 10: Stamps
Page 68, line 4, word 7: Thrill
Page 68, line 6, word 2: Pride
Page 70, line 4, word 10: Inner
Page 72, line 2, word 7: Determination
Page 72, line 3, word 6: Pretty
Page 74, line 3, word 8: Day
Page 75, line 5, word 1: Zero
Page 76, line 2, word 9: Experience
Page 76, line 3, word 9: Intense
Page 76, line 4, word 2: Sensei
Page 76, line 4, word 4: Guide
Page 76, line 4, word 7: Become
Page 76, line 6, word 2: Practicing