Emotes & Keyboard Shortcuts
Did you know that in addition to speaking on Club Penguin, you can also do emotes? Some are hidden, some are not. The main way to do an emote is through your chat bar. On the left, look for the wink (

) icon and click it.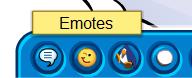 Once you click the wink icon, it'll bring up a tray of most of the icons. Simply click the emote you want to use.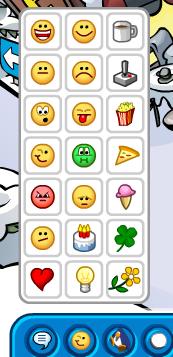 For example, if you clicked the "

" icon, your penguin will do an emote that looks like this: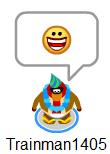 In addition to doing it that way, there is also keyboard shortcuts to do all the ones listed in the picture above, as well as several hidden ones.
E + 1 = Happy Face
E + 2 = Smiley Face
E + 3 = Straight Face
E + 4 = Frowning Face
E + 5 = Surprised Face
E + 6 = Sticking Out Tongue Face
E + 7 = Winking Face
E + 8 = Sick Face
E + 9 = Angry Face
E + 0 = Upset Face
E + B = Light Bulb
E + C = Coffee Mug
E + D = Sun/Daytime
E + F = Flower
E + G = Game Controller
E + H = Heart
E + I = Igloo
E + K = Cake
E + L = 4 Leaf Clover
E + M = Coin
E + N = Nighttime/Moon
E + O = Popcorn
E + P = Puffle
E + Q = Pink Ice Cream
E + T = Toot Sound/Icon
E + U = Unsure Face
E + W = Chocolate Ice Cream
E + Z = Pizza
Shift + ! = Big Exclamation Mark
Shift + ? = Big Question Mark