How To Get The Friendship Bracelet
The friendship bracelet is an item that has been in Club Penguin since 2007. It is a hand item. To get it, go to the Book Room, which is above the Coffee Shop. Open the Bookshelf, and click on the book "Rockhopper and the Stowaway".

On the last page, click the Friendship Bracelet.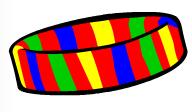 It'll then be added to your inventory and you can wear it on your penguin.