Club Penguin Puffle Launch Cheats
Puffle Launch contains a total of 36 levels. 12 of them are for nonmembers.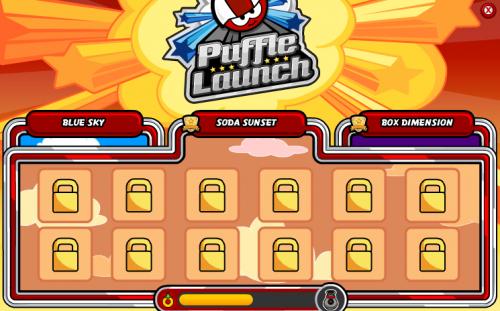 Blue Sky – Levels 1 To 6 Full Walkthrough + Perfect Score
The first few levels of Blue Sky are quite easy, and then they become more advanced. Below is a video tutorial of the first six levels.
Blue Sky – Levels 7 To 12 Full Walkthrough + Perfect Score
Soda Sunset – Levels 1 To 6 (13-18) Full Walkthrough + Perfect Score
Soda Sunset – Levels 7 To 12 Full Walkthrough + Perfect Score
Part 1:
Part 2:
Box Dimension – Levels 1 To 6 Full Walkthrough + Perfect Score
Box Dimension – Levels 7 To 12 Full Walkthrough + Perfect Score