Club Penguin The Great Puffle Switch Book Codes
Posted by Tech163 on January 31, 2010 under
Cheats and Tips
There is a brand new book in Club Penguin named "The Great Puffle Switch" which can be used to unlock a blue book with 1500 coins or 2000 coins.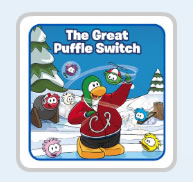 Great Puffle Switch Codes:
Page 26, line 8, 10th word: Bubble
Page 43, line 5, 2nd word: Snowballs
Page 76, line 8, 5th word: Will
You can choose buy the book from Amazon.
Be sure to check out the other Club Penguin Book Codes!