Card Jitsu Cheats
Posted by Tech163 on May 3, 2009 under
Cheats and Tips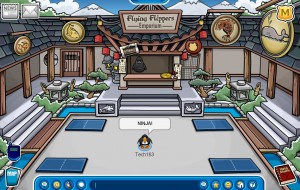 Maybe you have noticed, Tech163 is now a ninja. He officially beat Sensei on Wednesday, April 29. Here is a picture of him in the Ninja Hideout.
Here is a complete guide which will help you become a ninja (if you are not one already) just like I am.
Before competing against Sensei:
Don't play against Sensei until you are a black belt.
Don't quit, losing will also help you. Once I got a belt right after I lost.
If one of your friends is a ninja, go against him/her, and tell them to lose. When competing against a ninja, and you beat them, you have a higher chance of advancing to the next level.
Don't bother buying those power cards. They are not going to help you much unless you have lots of them.
Use your brain. Don't go for the obvious win. It can be a trap.
Sit next to someone smart. They can help you may smart decisions 😉
You have 20 seconds. You don't have to make up your mind within the first 5.
When competing against sensei:
Only compete with Sensei if you are a black belt. If you are not, he is going to win, regardless.
It should only take two or three tries. You can't beat him on the first.
He gets weaker and weaker.
It shouldn't take any more than 5 minutes.
Once you win, you get the ninja mask and access to the ninja hideout!
Make sure to share these card jitsu cheats with your friends if they are not a ninja yet!