Club Penguin Secret Agent Handbook Codes
Posted by Tech163 on March 29, 2009 under
Cheats and Tips
Secret Agent Handbook is one of the books which can be unlocked in Club Penguin.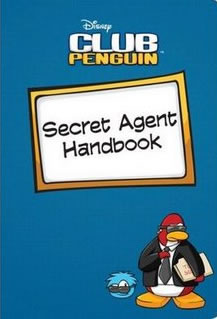 Here are some codes that can be used to unlock the book.
Page 5, line 2, 4th word: Matter
Page 5, line 5, 3rd word: Fashions
Page 5, line 9, 6th word: Give
Page 5, line 18, 4th word: Decides
Page 10, line 8, 5th word: situation
Page 20, line 20, 4th word: Wrench
Page 26, line 15, 2nd word: Goggles
Page 27, line 3, 2nd word: Clues
Page 27, line 5, 5th word: These
Page 27, line 8, 6th word: Out
Page 30, line 6, 3rd word: Super
Page 46, line 20, 9th word: Moves
Page 80, line 10, 4th word: Messages
If you don't get the above question, I suggest that you click the X button and click the coin again. This will unlock the Blue Book or 2000 coins. Be sure to check out the other Club Penguin Book Codes.