Become A Ninja
This guide will show you how to become a complete Ninja on Club Penguin!
Click on your map.
Go to the Dojo Courtyard.
Go to the Dojo.
Talk to Sensei in the right corner, he will give you the Starter Deck needed for playing Card Jitsu!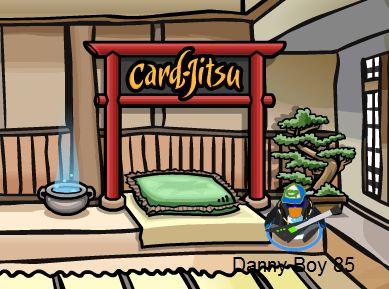 Here is some Card-Jitsu help on how to beat you opponents with cards:
Water Beats Fire.
Fire Beats Snow.
Snow Beats Water.
If both opponents put the same type of card, the higher number wins.
There are 2 different ways to beat your opponent in a Card-Jitsu match:
All 3 cards must be same type. (Must Be Different Colors)
All 3 cards should be different from each other. (Must Be Different Colors)
Earning Belts
When you play a match, you will receive for all your hard work only if you have won a game. This chart shows how many wins needed for getting belts:
White belt – 5 total wins needed.
Yellow belt – 13 total wins needed.
Orange belt – 21 total wins needed.
Green belt – 30 total wins needed.
Blue belt – 40 total wins needed.
Red belt – 52 total wins needed.
Purple belt – 64 total wins needed.
Brown belt – 76 total wins needed.
Black belt – 88 total wins needed.
Here is a chart of all the belts: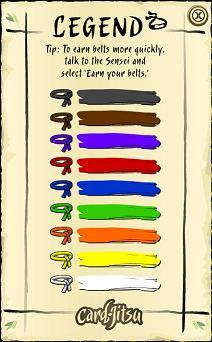 To earn these belts, you need to click on "Earn Your Belts" when you go to Sensei.
Beating Sensei
To beat Sensei, once you've received all the belts, all you need to do is walk up to him in the Dojo and 'Challenge Sensei'.