Club Penguin's Penguin of the Week: Ic Blizzard
Posted by Trainman1405 on December 22, 2015 under
Other Stuff
This week's POTW is Ic Blizzard, who was nominated to be Penguin of the Week by Chingu123 and Pinguina481!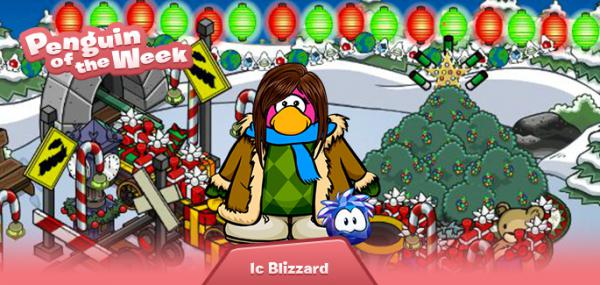 Here are their nominations:
"I would like to nominate one of my best friends on the island: Ic Blizzard! She'll always help you out when you're in need! One time, I was trying to get abducted, and she stuck around and helped out in every way possible! And it worked! Ic Blizzard truly deserves to be Penguin of the Week!"

"I nominate Ic Blizzard for POTW. She is nice to everyone and she accepts any friend requests. She has awesome igloos and she throws awesome parties there. She is the best chef at the Pizza Parlor and wants to donate a lot for Coins For Change. Also, she is very good at Sounstudio! She deserves POTW!"
As a reward 10,000 coins and the Penguin of the Week background were added to her account. Great job, Ic!