New Club Penguin EPF Message from Gary
Posted by Loki Terry on August 19, 2011 under
Other Stuff
Gary has posted a new message for EPF agents and he mentions:
Temperature at Toughest Mountain has dropped by 115%. According to my calculations, that should be enough to put Herbert into hibernation.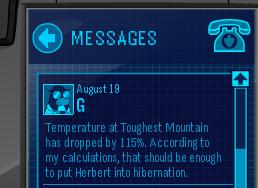 Interesting information, hmm – I wonder what's going to happen! – Leave us a comment with what you think.