Club Penguin 1 Week Free Membership & 10,000 Coins by Club Penguin
Posted by Loki Terry on June 20, 2011 under
Other Stuff
[UPDATE: CLUB PENGUIN HAS UPDATED AND SORTED THE PROBLEM – THIS IS NOT BEING OFFERED/GIVEN ANYMORE!]
I contacted Club Penguin due to the fact that Disney Club Penguin has been down all day and that the site had pop-ups and all the content had gone and rumours are going around the domain was expired and I got some harmful popups on my computer! – You can see MORE information by CLICKING HERE.
You can call them or your parents, preferably your parents. – Below the numbers are free to call depending where you live, so if you are in the UK use the UK, USA use the USA etc, if you are not in these locations call USA.
USA: 1-888-861-4111 (free phone number)
UK: 0800 0857 638 (free phone number)
NZ: 0800 451 604 (Open Mon-Fri 12pm-8pm
AU: 1800 237 406 (Open Mon-Fri 10am-6pm (EST)
I was frustrated that I pay every month for Club Penguin and I should have the right to play it and have the features I pay for.I decided to call Club Penguin and I said.
Hi I was wondering if you could help me. Club Penguin is currently down and I pay for the membership and if I have a membership I should be able to use it however all day I've been clearing my cache and I still don't get Club Penguin to load. What do I get for this, as I go on Club Penguin and I also get popups.
It appears as I had for a while access to my parent login it was stated as a "1 week gift" and they added 10,000 coins!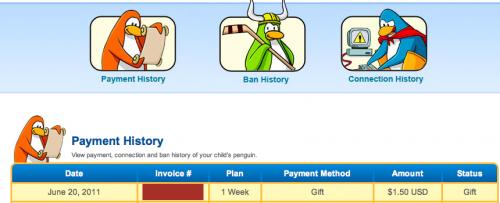 IT DEPENDS if you get the coins though, you will guarantee on getting a week membership though even if you have a membership on-going at the current moment, I was told that it depends on the situation if you get both or just a membership.

I would just like to state possibly due to this the recent events they  stated the Music Jam 2011 party MAY be extended. Everyone in the office is trying really hard to sort the problem. Did you get a 1 week free membership or 10,000 coins below? – leave a comment.