Hey Tinkas,
Tinkatolli has released the new edition of their daily newspaper.
Today, they've announced that Trader Tinka's back soon. Trader Tinka will be back  2 PM Tinkatolli Time.
Trader Tinka's Back Soon  –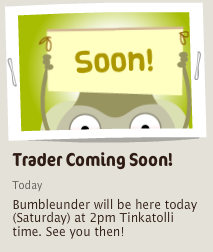 Timezones
UK & Europe
GMT (UK & Northern Ireland) – 2PM
GMT +1 (Spain, Belgium, Germany) – 3PM
USA & Canada
Pacific Daylight Time – 6AM
Mountain Standard Time – 6AM  / Mountain Daylight Time – 7AM
Central Standard Time – 7AM / Central Daylight Time – 8AM
Eastern Daylight Time – 9AM
Australia
AWST – 9PM
WCT – 9:45PM
ACST – 10:30PM
AEST – 11PM
ACDT – 11:30PM
AEDT – Midnight (Sunday)
Click HERE if your timezone is not shown.
Will you be trading with Trader Tinka?