Below is a clothing, shoes and accessories guide for Tinkatolli. You can find these clothes in the Clothing Shop in Canopia.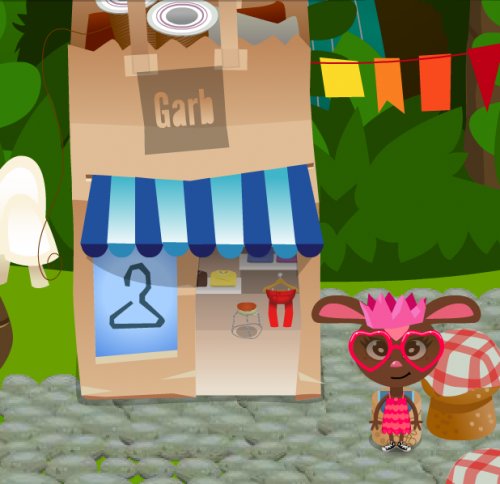 You can also access this by clicking on 'Change your tinka' icon on the top left of the screen then click on 'Shop for clothes'.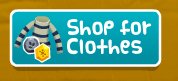 When you have done this, you will then go to the "Garb" the clothing shop and then you will be able to buy all the clothing they have available. You are able to buy clothing with Coins and Trinkets.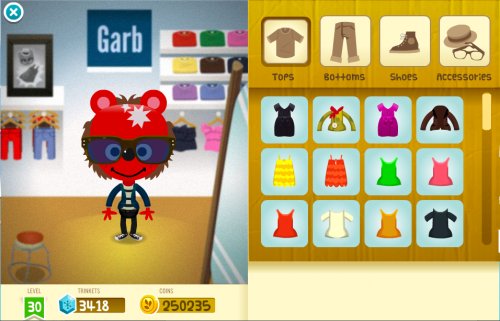 When you find the clothes you wish, select on the item and once it's selected it will ask you if you want to buy the item.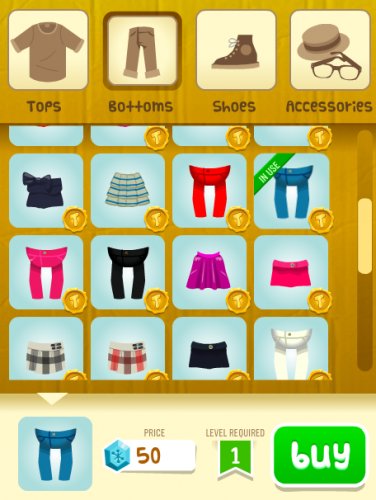 To use the clothing you bought, click on the  'Shop for clothes' icon again and click on the clothes hanger icon, you will see all the items you have bought under each section.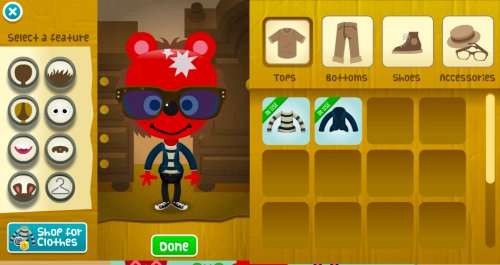 Shoes
Black Hi-Tops (Level 1) (25 Trinkets) –

Khaki Hi-tops (Level 1) (25 Trinkets) –

Red Sneakers (Level 1) (25 Trinkets) –

Red Hi-tops (Level 4) (25 Trinkets) –

Khaki Sneakers (Level 4) (25 Trinkets) –

Blue Sneakers (Level 6) (25 Trinkets) –

Blue Hi-tops (Level 5) (25 Trinkets) –


Orange Laces Hi-tops (Level 4) ( Coins) –

Masks/Hats
*Member* Scream Mask (Level 10) (5000 Coins)-
*Member* Pumpkin Mask 2 (Level 6) (5000 Coins) –
*Member* Pumpkin Mask 1 (Level 4) (5000 Coins) –
*Member* Hockey Mask (level 20) (5000 Coins) –
Groucho Mask (Level 10) (500 Trinkets)-
*Member* Ghost Mask (Level 15) (5000 Coins)  –
*Member* Red Zissou Hat (Level 8) (1000 Coins) –
*Member* Witch Hat (Level 10) (5000 Coins)
*Member* Viking Horns Hat (Level 100) (5000 Coins) –
*Member* Tiara (Level 10) (5000 Coins) –
*Member* Straw Hat (Level 5) (500 Coins) –
Screwcap Hat (Level 1) (250 Coins) –
*Member* Red Star Hat (Level 8) (5000 Coins) –
*Member* Red Cap (Level 6) (500 Coins) –
*Member* Pink Princess Hat (Level 6) (1000 Coins) –
*Member* Yellow Party Crown (Level 3) (1000 Coins) –
*Member* White Party Crown (Level 3) (1000 Coins) –
*Member* Pink Party Crown (Level 1) (1000 Coins) –
*Member* Blue Party Hat (Level 4) (1000 Coins) –
Paper Hat (Level 2) (500 Coins) –
*Member* Xmas Leaf Hat (Level 3) (250 Coins) –
*Member* White Helmet (Level 20) (500 Trinkets) –
*Member* Red Helmet (Level 25) (500 Trinkets) –
*Member* Brown Helmet (Level 15) (500 Trinkets) –
*Member* Black Helmet (Level 15) (500 Trinkets)-
*Member* Happy Hat (Level 6) (5000 Coins) –
*Member* Fez Hat (Level 4) (1000 Coins) –
*Member* Snowflake Elf Cap (Level 5) (1000 Coins) –
*Member* Snowflake Pompom Elf Cap (Level 5) (1000 Coins) –
*Member* Green Red Berry Elf Cap (Level 5) (500 Coins)-
*Member* Red Elf Hat (Level 4) (250 Coins) –
*Member* Red Trimmings Elf Hat (Level 4) (5000 Coins) –
Green Elf Hat (Level 2) (250 Coins) –
*Member* Blue Beret (Level 3) (500 Coins) –
*Member* Brown Beret (Level 4) (500 Coins) –
*Member* Red Beret (Level 10) (500 Coins)-
*Member* Black Beret (Level 3) (500 Coins) –
Bottlecap Hat (Level 1) (250 Coins) –
*Member* Brown Pearls Hat (Level 5) (5000 Coins) –
*Member* Champy Hat (Level 1) (250 Coins)-
*Member* Antlers Hat (Level 10) (1000 Coins) –
*Member* Red Antlers Hat (Level 12) (1000 Coins) –
Glasses/Shades
*Member* White Glasses (Level 5) (1000 Coins) –
*Member* Tortoise Shell Glasses (Level 5) (100 Trinkets) –
*Member* Yellow Tortoise Shell Shades (Level 10) (1000 Coins) –
*Member* Pink Tortoise Shell Glasses (Level 10) (5000 Coins)
*Member* Green Tortoise Shell Shades (Level 10) (25 Trinkets) –
*Member* Brown Tortoise Shell Shades (Level 8) (25 Trinkets) –
*Member* Blue Tortoise Shell Shades (Level 10) (25 Trinkets) –
*Member* Black Tortoise Shell Shades (Level 8) (25 Trinkets) –
*Member* Black and Blue Shades  (Level ) ( Trinkets)
Steam Punk Goggles (Level 10) (500 Trinkets) –
*Member* Red Glasses (Level 10) (1000 Coins) –
*Member* Red and Yellow Shades (Level 15) (100 Trinkets) –
*Member* Pink and Red Shades (Level 25) (100 Trinkets) –
*Member* Red and Orange Shades (Level 20) (50 Trinkets) –
*Member* Red and Brown Shades (Level 10) (50 Trinkets) –
*Member* Red and Green Shades (Level 50) (15 Trinkets) –
*Member* Red and Blue Shades (Level 15) (50 Trinkets)
*Member* Red and Black Shades (Level 10) (50 Trinkets) –
*Member* Yellow Kanye Glasses (Level 10) (5000 Coins) –
*Member* Red Kanye Glasses (Level 10) (5000 Coins) –
*Member* Blue Kanye Glasses (Level 10) (5000 Coins) –
*Member* White Jackieo Glasses (Level 5) (250 Trinkets) –
Black Nerd Glasses (Level 8) (500 Trinkets) –
Black Costello Shades (Level 10) (500 Trinkets) –
Blockhead Glasses (Level 5) (450 Trinkets) –
Brown Heart Glasses (Level 10) (500 Trinkets) –
Pink Heart Glasses (Level 5) (500 Trinkets) –
*Member* Jackieo Black Glasses (Level 5) (250 Trinkets) –
3D Glasses (Level 40) (500 Trinkets) –
Skirts/Bottoms/Tops/Shirts/Dresses/Jackets
White Skirt (Level 1) (25 Trinkets) –
Warm Ties Skirt (Level 5) (100 Trinkets) –
Blue and Beige Striped Skirt (Level 1) (50 Trinkets)-
Yellow Mini Skirt (Level 1) (5o Trinkets) –
Salmon Mini Skirt (Level 1) (50 Trinkets) –
Red Mini Skirt (Level 1) (50 Trinkets) –
Hot Pink Mini Skirt (Level 1) (50 Trinkets) –
Green Mini Skirt (Level 1) (50 Trinkets) –
Blue Mini Skirt (Level 1) (50 Trinkets)
Black Mini Skirt (Level 1) (50 Trinkets) –
Red Kilt (Level 1) (75 Trinkets) –
Red and Cream Kilt (Level 1) (75 Trinkets) –
Blue and Cream Kilt (Level 1) (75 Trinkets) –
Black and Cream Kilt  (Level 1) (75 Trinkets)-
Pink Frills Skirt (Level 1) (50 Trinkets)-
Red Bow Skirt (Level 1) (75 Trinkets)-
Pink Bow Skirt (Level 1) (75 Trinkets) –
Green Bow Skirt (Level 1) (75 Trinkets) –
Black Bow Skirt (Level 1) (75 Trinkets) –
White Skinny Pants (Level 1) (50 Trinkets) –
Red Skinny Pants (Level 1) (50 Trinkets) –
Hot Pink Skinny Pants (Level 1) (50 Trinkets) –
Grey Skinny Pants (Level 1) (50 Trinkets) –
Blue Skinny Pants (Level 1) (50 Trinkets) –
Black Skinny Pants (Level 1) (50 Trinkets) –
White Skull Undershirt (Level 1) (50 Trinkets)-
Black Skull Undershirt (Level 1) (50 Trinkets) –
White T-shirt (Level 1) (50 Trinkets)-
Salmon Top (Level 1) (50 Trinkets) –
Star Top (Level 1) (50 Trinkets) –
Yellow Top (Level 1) (50 Trinkets) –
Black T-shirt (Level 1) (50 Trinkets) –
White Bolt T-shirt (Level 1) (50 Trinkets) –
White Crown T-shirt (Level 1) (50 Trinkets)-
Pink Top (Level 1) (50 Trinkets) –
Orange Top (Level 1) (50 Trinkets) –
Hot Pink Top (Level 1) (50 Trinkets) –
Green Top – (Level 1) (50 Trinkets)
Black Top (Level 1) (50 Trinkets) –
Red Winter Sweater (Level 1) (50 Trinkets)-
Red Striped Long-sleeved Shirt (Level 1) (50 Trinkets) –
Blue Striped Long-sleeved Shirt (Level 1) (50 Trinkets) –
Black Striped Long-sleeved Shirt (Level 1) (5o Trinkets) –
Khaki Scout Long-sleeved Shirt (Level 1) (50 Trinkets)
Yellow Flapper Dress (Level 1) (50 Trinkets) –
White Flapper Dress (Level 1) (50 Trinkets) –
Pink Flapper Dress (Level 1) (50 Trinkets) –
Orange Flapper Dress (Level 1) (50 Trinkets) –
Multi Orange Flapper Dress (Level 1) (50 Trinkets) –
Green Flapper Dress (Level 1) (50 Trinkets) –
Blue Flapper Dress (Level 1) (50 Trinkets) –
Black Flapper Dress (Level 1) (50 Trinkets) –
Light Blue Dress Shirt (Level 1) (75 Trinkets)-
Pink Dress (Level 1) (100 Trinkets) –
Black Dress (Level 1) (100 Trinkets) –
Pink Jacket (Level 1) (100 Trinkets)
Grey Jacket (Level 1) (100 Trinkets) –
Brown Jacket (Level 1) (100 Trinkets) –
Blue Jacket (Level 1) (100 Trinkets)-
Black Jacket (Level 1) (100 Trinkets) –
(More soon!)