Manx has posted on the Go Bananas blog with some news about an Easter Egg Hunt for UK monkeys!
Easter is almost here, and Swapit's Easter Bunny has gone on the run and left a trail of Easter eggs across the web for you to find! Join in on this Epic Easter Hunt for chances to win BANANAMAZING prizes!
All you need to do to start your hunt, is to click here and check the clues leading you to the next Easter egg.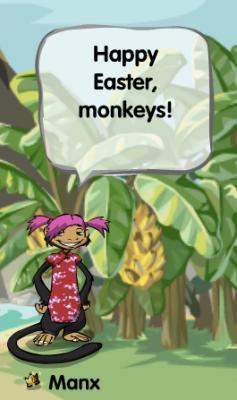 For every Easter egg you find you'll get 30 swapits to spend on Swapit.  Once you've got some Swapit points check out the Easter Frenzy where you can bid on heaps of cool free stuff!
Some of the eggs contain special prizes–like MINIMONOS goodies –so make sure you hunt them all down for a chance to win!  If you find ALL of the eggs, you'll be entered into the draw to win a Blackberry Playbook! — which is pretty sweet!
The Easter Bunny hid one of his eggs here on the Go Bananas Blog, so LOOK CLOSELY!  Let us know if you find it! 🙂
Visit Swapit's Easter Hunt to find out more!