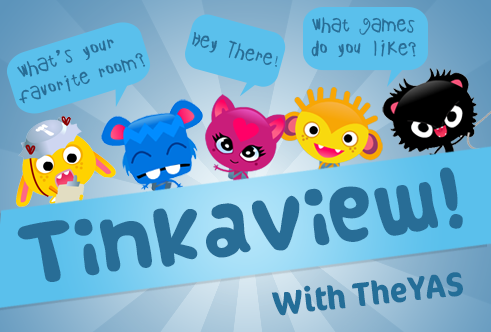 Joelle: What are the things you like about Tinkatolli?

TheYAS: Everything ! Tinkatolli is obviously the most amazing VW. I have played many Virtual Worlds and as a player I can say that Tinkatolli totally different from them. The main awesome thing of Tinkatolli is that it involves offline activities. Also , the staff is very kind and they listen to us whenever we need them.

Joelle: What is your most favorite feature of Tinkatolli?

TheYAS: The trading feature with Bumbleunder is my most favorite feature on Tinkatolli. He give us Unusuals and also junks, which we can trade with Dirty Dozen and get unusuals or badges from him. And we also get badges when we trade with Bumbleunder.

Joelle: What is your most favorite feature of Tinkatolli?

TheYAS: Tinkafair. I think its the best room in Tinkatolli because we can see the fantastic creations of other players.

Joelle: What do you think of the memberships?

TheYAS: Memberships are important for every Virtual World since it is a platform of earning money. 😛 Tinkas can apply their brains to complete quests, create crazy cool tinkas, access secret fun places unlike other VWs in which one have to buy membership just to buy clothes for their avatar.

Joelle: The staff have now made merchandise, what would you like to see?

TheYAS: On the forums, I have voted for T-shirts. But posters and caps would be also cool.

Joelle: What do you think about makeables created by kids?

TheYAS: Absolutely amazing! I have never thought that we can make makeables out of junks! Each makeable is very creative. It takes time to make a makeable offline but the results are delightful.

Joelle: Is there anything you would like to see on Tinkatolli in the future?

TheYAS: A billboard on Blueberry Hill telling everyone whose birthday is today ( like the forums ). Because of the new Message feature we can wish them even if they are offline 🙂 That would be sweet.

Joelle: What do you think of Trinkets?

TheYAS: Its cool! They are cheap to buy and easy to get online too ! All we have to do is log on to Tinkatolli daily and we will also get badges! Also we get Trinkets when we level up ( and levelling up on Tinkatolli is really easy and fun ).

Joelle: What do you think about the levelling up system?

TheYAS: The levelling up system is nice. First we used to get an extra tinka , now we get trinkets. Because of trinkets we can buy Unusuals and also tinkas which is awesome !
Thanks TheYAS! – Some great feedback!
Do you want to be Tinkaviewed? Comment below !