Hey Monkeys!
My blog, MiniMonos Info has recently reached 55,000 blog hits! – iPuma and I decided that we should celebrate on MiniMonos this weekend! – Will you join us?!
Party over, thanks for joining! – review will be up soon!
Details:
Time: 6PM Monkey Standard Time (UK Time)
Where: Leatherback Lagoon, STAR TIGER
When: Saturday 16th February 2013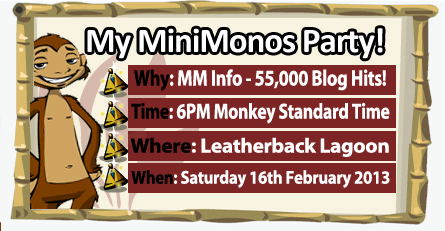 ZEEVEX CODE: — 5566847602  — Leave a comment or tweet me @LokiTerry to let me know if you won!
Well done Manny, who won the Zeevex code!
See you around the island monkeys!