This week Bananatastic were on the hunt for the next funniest monkey on MiniMonos island. This week MiniMonos wasn't looking for jokes, they decided they wanted to do something different to help them find the funniest monkey.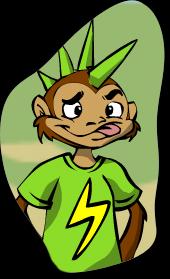 Bananatastic said:
So, this week we're looking for the trickiest, funniest, tounge twisters you know!

Here's one tounge twister I wanted to share with you monkeys… The winkle ship sank and the shrimp ship swam.

LMTO! I was sitting here laughing and just saying that for 10 minutes until I could finally say it! Leave a comment with your silly tounge twisters for a chance to be the next funniest monkey on MiniMonos!
Happy tounge twisting monkeys!