Ecomom has posted on the Go Bananas Blog saying that there is going to be a new release soon, which is in a few days!
Ecomom has managed to get a sneak peak for us of a concept drawing of the room.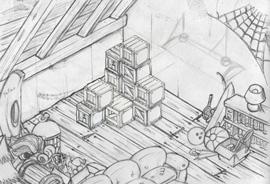 Ecomom said:
Don't forget that the final artwork is often different from the concept drawings…but so far, this looks VERY exciting!
As far as my monkey eye can tell, I see some surfing equipment, a bowling ball, tennis racket? – Possibly sports related? – I see boxes and on the left hand side I see some more sports quipment and a like chinese celebration dragon.. hmm I wonder… What do you think this is?