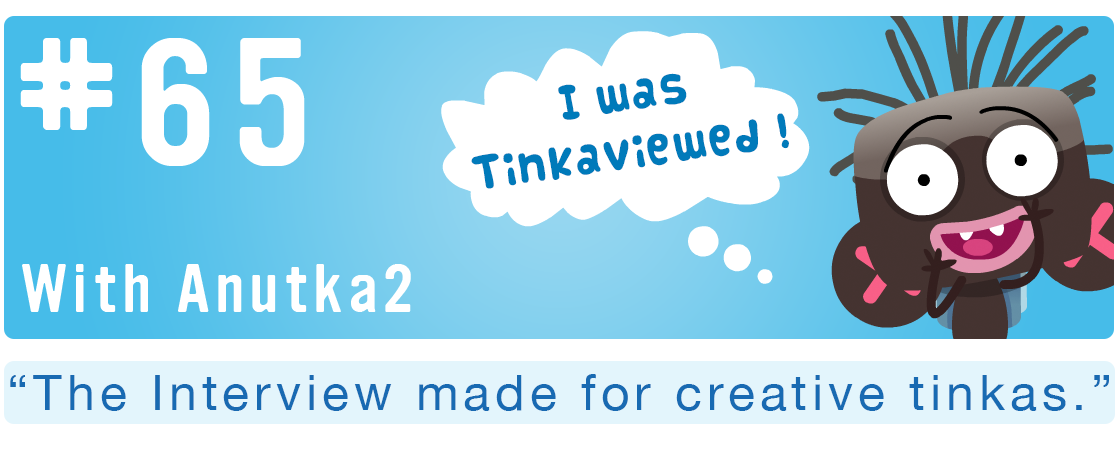 Loki Terry: What are the things you like about Tinkatolli?

Anutka2: I like unusuals, DirtyDozen and my tinkahome

Loki Terry: What is your favorite room on Tinkatolli and why?

Anutka2: My favorite room – DirtyDozen. DirtyDozen I like the fact that there can be rare items

Loki Terry: What do you think of the memberships?

Anutka2: Membership offers many advantages and play becomes more interesting. But many Tink can not pay membership and therefore come to play Tinkatolli less and less. I think we should reduce the cost of acquiring membership, so that more people had the opportunity to stay on Tinkatolli. Or is it possible to share membership tinkas rare objects with Tinkas non-membership, and therefore do not have the ability to find these rarities.

Loki Terry: Interesting suggestion!

Loki Terry: What do you think about makeables created by kids?

Anutka2: Tinkatolli – the wonderful world! My little sister (4 years) just in love with Tinkatolli! Her time on the PC is limited. But she wants to play with his tinka! It took around a huge cardboard box and literally out of the junk and other items built a mini Tinkatolli in real life! Moreover, she invited our game some of his little friends (they never played Tinkatolli on PC). This is fantastic! Now the kids are building a real mini Tinkatolli.

Loki Terry: Awesome!

Loki Terry: What do you think of Trinkets?

Anutka2: Ooh! Trinkets! They need to be very, very much! If you have the membership and many trinkets – then you have no problems! Tinkas non-membership very limited resources to play. I think that should be allowed to tinkas non-membership to get more trinkets, to interest to play again. For example, in CoinsSwap Buy trinkets for coins

Loki Terry: What clothing items do you want on Tinkatolli?

Anutka2: More beautiful dresses, bikinis and hair accessories. Please!

Loki Terry: Thanks for your time and views!
Thanks Anutka2!!
Do you want to be Tinkaviewed? – Click Here