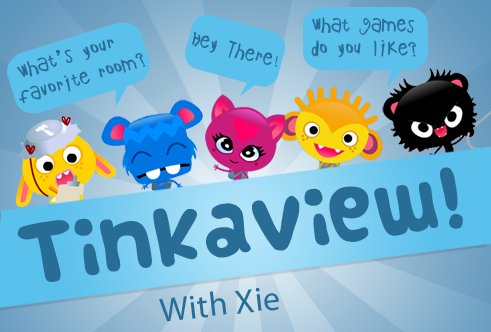 Joelle: What are the things you like about Tinkatolli?

Xie: Just how creative it is, like being able to decorate your pad with ANYTHING in your backpack!

Joelle: What is your most favorite feature of Tinkatolli?

Xie: The drivable vehicles and balloons.

Joelle: What is your favorite room on Tinkatolli and why?

Xie: Blueberry Hill, because there is always lots of tinkas to chat to, delicious blueberries and the slide!

Joelle: What do you think of the memberships?

Xie: I don't really think it's worth it because I'm not allowed to go on the computer every day and there is not many features available. But I think it's cool that you get lots of trinkets!

Joelle: If the staff had merchandise what would you like to see?

Xie: Key rings, that you can have your Tinka and it's name on.

Joelle: What do you think about makeables created by kids?

Xie: Great! There creativity is amazing! I think they should do another competition now because there has not been one for a while.

Joelle: Is there anything you would like to see on Tinkatolli in the future?

Xie: More trinkets when you level up and maybe a tinka designing a whole new room!

Joelle: What do you think of Trinkets?

Xie: Originally I thought they were too hard too get, but now there is more ways of getting them around the island for example liking my friends pad or trading with Trader Tinka.

Joelle : What do you think about the levelling up system?

Xie: I really like it!

Joelle: Thanks for your time and views!
Thanks Xie!
Do you want to be Tinkaviewed? – Click Here