Top Bananas on MiniMonos is where you have to complete set requirements which you will them get an awesome T-Shirt and you will earn a banana to where your name is. Being a top banana is great, you just don't get a t-shirt but you get banana chips, haircuts and other things. Becoming a Top Banana may be a little difficult but this will help you out!
Log on to MiniMonos and once you have done that you have to click on your profile and click on the blue tab, you can also if you want click the big yellow banana on the top left of your screen.

When you click on the Yellow Banana you will be asked to do several tasks to get Top Banana.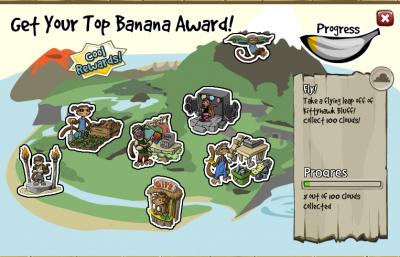 Recycle!
Flip out over recycling! Play R.A.T.S and recycle 150 items!
Fly!
Take a flying lead off of Kittyhawk Bluff! Collect 100 Clouds!
Bimini Rocks
Take a photo of 3 monkeys on stage Bimini!
Monkey Fist
Learn the ways of the Monkey Fist! Play Monkey Fist at Long Beach and earn your white armband!
Grow!
Green thumbs rule! Play grow and collect 3 baskets of strawberries!
Swim!
Swim with the fishes! Dive into the lagoon and get the water cleaned up. Then wait for new fish to return to the lagoon.
Traderz!
Treat your self to a cool new item for your treehouse! Buy something from Traderz!
Once you have completed all of the above tasks you will be awarded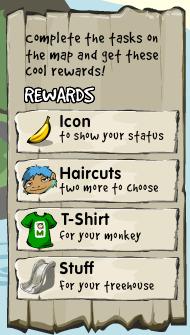 You will be awarded:
Top Banana on your status
Haircuts – two more to choose
T-Shirt – for your monkey
Stuff – for your treehouse
Are you a Top Banana? – Did you have fun? – Leave me a comment and let me know!