MiniMonos has now passed the 250,000 monkey members on MiniMonos which this has happened only just after 3 months of coming out of beta!
All the MiniMonos staff is all jumping up and down and are really happy and they want to say a hude thank-you to all of us!
The staff has decided to give us a gift for us a free item in our treehouse, which is a celebration, flag!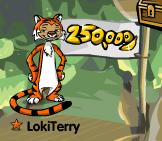 Thanks to every monkey, MiniMonos wouldn't be like it is today without you monkeys out there!