This is the weekend where you can earn the ultimate Bonus Bash ticket.
This is how you can get it. Purcahse MiniMonos Shells, a Gold membership or Banana Chips between now and next Tuesday, and you'll receive a FREE GOLD BONUS BASH TICKET for the biggest possible bonus prizes!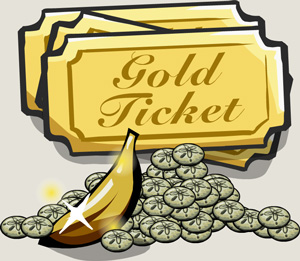 Ecomom said:
We'll be checking regularly throughout the weekend to award gold tickets, so if you don't have yours straight away, don't worry! Check back later and it'll be there

Offer ends midnight, July 19, Monkey Standard Time.
That is a great opportunities for new monkeys or old to get shells or a membership and get a free bonus gold ticket which you can get a big award from.