In Angry Birds Season versions 1.5.2 (and later 1.5.3), the mighty eagle is introduced. The update is available via the iOS App Store. Version 1.5.2 doesn't completely work with the mighty eagle, so if you have that version you will have to update to version 1.5.3.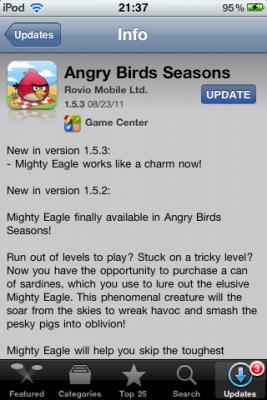 As you probably know, the catch with the Mighty Eagle is that you can only use it once per hour. It costs $0.99/£0.59/€0.79 just like the mighty eagle found in the normal version of Angry Birds. Here is the official release notes:
New in version 1.5.3:

– Mighty Eagle works like a charm now!

New in version 1.5.2:

Mighty Eagle finally available in Angry Birds Seasons!

Run out of levels to play? Stuck on a tricky level? Now you have the opportunity to purchase a can of sardines, which you use to lure out the elusive Mighty Eagle. This phenomenal creature will the soar from the skies to wreak havoc and smash the pesky pigs into oblivion!

Mighty Eagle will help you skip the toughest obstacles, but there's a limit: you can only use the aid of Mighty Eagle to pass a level once per hour. In other words, when you pass a level with Mighty Eagle, you need to wait an hour to use him again to pass another level.

Is that all? Far from it! Mighty Eagle includes all new gameplay goals and achievements! In each level that you already cleared using the regular birds, you can smash away freely and try to fill up the destruction gauge! If you want to smash your way through every level leaving nothing behind, you have every incentive to do so!

Mighty Eagle is an in-app purchase in Angry Birds and costs $0.99/£0.59/€0.79 to download. One-time purchase, unlimited use!