Hey Tinkas,
Tinkatolli has released the new edition of their daily newspaper.
Today, they've announced that Trader Tinka's back soon. Trader Tinka will be back Thursday 29th at 8PM Tinkatolli Time.
Trader Tinka's Back Soon  –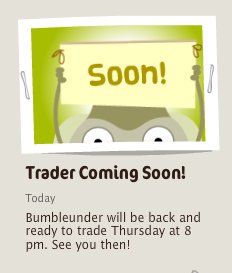 Timezones
UK & Europe
GMT (UK & Northern Ireland) – 8PM
GMT +1 (Spain, Belgium, Germany) – 9PM
USA & Canada
Pacific Daylight Time – Noon
Mountain Standard Time – Noon  / Mountain Daylight Time – 1PM
Central Standard Time – 1PM / Central Daylight Time – 2PM
Eastern Daylight Time – 3PM
Australia
AWST – 3AM (Friday)
WCT – 3:45AM (Friday)
ACST – 4:30AM (Friday)
AEST – 5:00AM (Friday)
ACDT – 5:30AM (Friday)
AEDT – 6:00AM (Friday)
Click HERE if your timezone is not shown.
Will you be trading with Trader Tinka?