Club Penguin June 2013 Parent Update Newsletter
Posted by Trainman1405 on June 28, 2013 under
Other Stuff
Club Penguin is sending out new parent update all about the Monsters University Takeover! One new change to the newsletters is that it now includes a link to download the My Penguin app at the top. Here's the newsletter: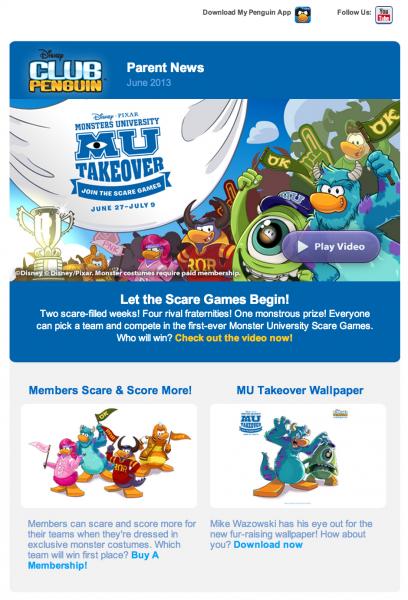 Let the Scare Games Begin!

Two scare-filled weeks! Four rival fraternities! One monstrous prize! Everyone can pick a team and compete in the first-ever Monster University Scare Games. Who will win? Check out the video now!

Members Scare & Score More!

Members can scare and score more for their teams when they're dressed in exclusive monster costumes. Which team will win first place? Buy A Membership!

MU Takeover Wallpaper

Mike Wazowski has his eye out for the new fur-raising wallpaper! How about you? Download now.