Club Penguin Marvel Superhero Takeover Party 2013 Information
Posted by Trainman1405 on April 3, 2013 under
Other Stuff
Club Penguin's page on the Disney UK website has been updated with information on the Marvel Superhero Takeover this month!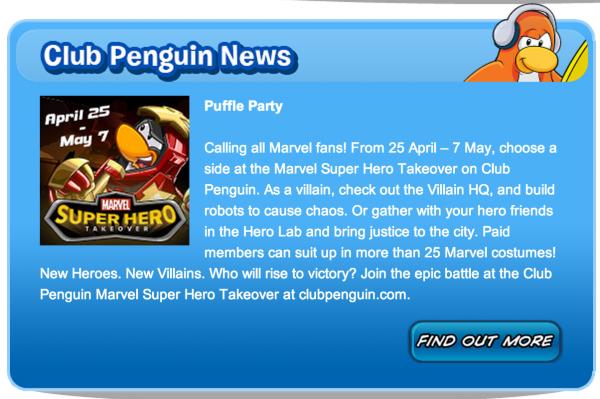 It reads:
Calling all Marvel fans! From 25 April – 7 May, choose a side at the Marvel Super Hero Takeover on Club Penguin. As a villain, check out the Villain HQ, and build robots to cause chaos. Or gather with your hero friends in the Hero Lab and bring justice to the city. Paid members can suit up in more than 25 Marvel costumes! New Heroes. New Villains. Who will rise to victory? Join the epic battle at the Club Penguin Marvel Super Hero Takeover at clubpenguin.com.
I can't wait for the party!