Cheats Whiz Club Penguin 2012 Spring Party
Posted by Tech163 on March 25, 2012 under
Uncategoried
It's been quite a while since we last had a party for Cheats Whiz Club Penguin, so we have decided to hold a part the first day of April! Here is the party invitation. Keep in mind April 1 is SUNDAY, as March has 31 days.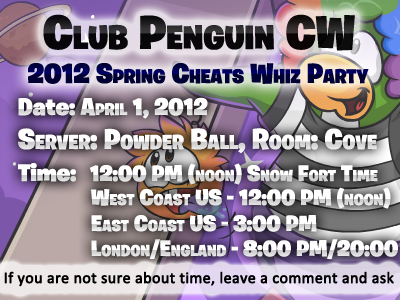 As stated in the invitation, the party will begin at 12:00 PM Snow Fort Time. Keep in mind that when Daylights Savings Time is active in the United States, the time at the Snow Fort will be one hour ahead of the Penguin Standard Time found on the Community Page. That means according to the Snow Forts time, the party is at 12:00 PM (noon), but 11:00 AM according to the time on the community page.
As usual, we understand many penguins will have difficulty figuring out the time of the party in their local time. As stated in the invitation, simply comment with your city and state (note that your comment will be published) and we will try to figure out the local time for you. We also ask that you check the previous comments in the event someone else has inquired aout the time for your location.
In addition, the majority of the Cheats Whiz Club Penguin staff and administrators will be attending this party, so it will be a GREAT opportunity to meet many of them, perhaps for the first time.