Find Secret Coin Bags in Puffle Rescue
Posted by Zanher on August 31, 2010 under
Cheats and Tips
Today while I was trying to get my stamps in Puffle Rescue, I wondered what the Coin Bags were for. I finally figured it out. This stamp is kind of hard to get. But what you do is, when you're in Level 7 jump on ALL of the cracks but don't stay there. Once you do that you earn the first coin bag and stamp: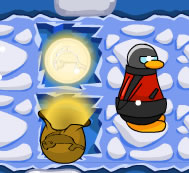 Now when you have earned the coin bag, just finish the level. But It isn't over yet.
When you are in Level 8 you will probably see a balloon with a key on the bottom of  it. Try to hit it so it goes up on the screen. Keep hitting until you see a keyhole. Hit it one last time enough to where the key is at the same level as the keyhole and then the key will go in and you will unlock the second coin bag and stamp:

Now for the third one. You Go to the NEXT level and you will see a green balloon with a a lightbulb under it. You need to hit every balloon and make all of the lightbulbs light up. In total there are three balloons. (To do this much easier go through the gap between the red balls, so you don't waste any time, because the balloons DON'T stay lit up forever) This is what happens when you earn the stamp:

This is a complicated process, but it is still fun doing! Are you going to do these stamps or are they to hard for you? Check out our Puffle Rescue Cheats for more great help with Puffle Rescue.