Tallest Mountain Room Coming Soon
Posted by Tech163 on August 23, 2009 under
Preview
We have gathered enough evidences that the Tallest Mountain will soon be a room in Club Penguin. If you go to the Agent's HQ, you will still see an empty screen.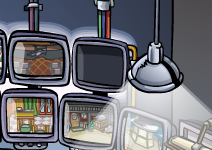 On June 20, Billybob wrote:
New Rooms – There's going to be some construction – renovations AND new places!
If you go to the Dojo Courtyard, you will see a tall mountain in the background. Is that supposed to be the tallest mountain?